New York Fashion Week - Feb 2015 ( Also Known as Fall Fashion Week )
expand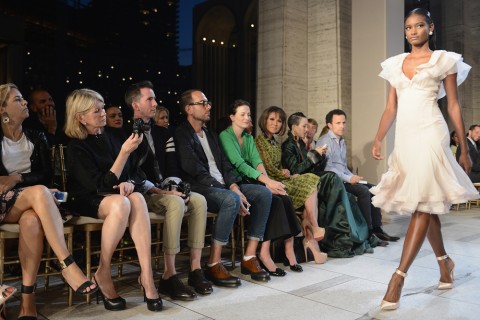 Image Credit: The Daily Gloss
For many New Yorkers, February 12 to the 19th represents a period of days that occurs in the middle of the winter, typically after the declaration of whether we will have more Winter or a swift Spring on Groundhog day and marked by frequent periods of heavy or light slow. Basically, its just another week of the year. But for tens of thousands involed in the fashion industry and for millions more watching worldwide, this time period marks one of the most exciting weeks of the entire year as it is the start of New York Fashion Week and indeed the entire fashion week calendar. For those familiar, Mercedes Benz Fashion Week in New York is essentially the holy grail of the industry. Press Rooms and PR Agencies are in a mad frenzy sending and receiving invitations, allocatingn writers, editors and photographers to the shows of their choice ( or not ). Bloggers are clearing their schedules as well as scheduling posts, negotiating hotel reservations and travel plans and models and designers are following suit. Its time for the "fashion circus".
For those uninitatied or newer to the industry, it is unlikely that you will be in attendance for Mercedes Benz and if you are lucky enough to get an invite from a designer or have the credentials for accreditation, then that is fabulous. For the rest, designers, editors, bloggers, models and production agencies usually either live stream events or provide enough coverage and rich content to make everyone feel as though they are part of the action, whether you are a young girl in Kansas or up very early in Shanghai to see the shows.
Still, New York Fashion Week has grown to be quite an inclusive event and there is plenty for everyone to do, from sample sales to emerging designer shows to new product launches to various exhibitions and endless parties. Here are a few such great events that one can attend during New York Fashion Week and we will endeavor to bring you greater coverage of shows that typically are accessible by a much larger audience that the elites that attend only official Mercedes Benz related events.
New York Style Week
New York Style Week is brought on by the team behind Houston Fashion Week and various other major fashion weeks in the South-Central America and all around Texas. A newcomer to the scene, New York Style Week promises to feature couture, resort wear, ready to wear and more in a mashup that combines designers from two different continents. It should be a great show to see. Ticksts available on Eventbrite.
Fashion Roxx All Star Weekend
An All-Star weekend fashion event targeted at the more affluent fashionista, with several fashion shows, a celebrity cruise event and other interesting itinerary created by the team behind Fashion Roxx Magazine. It should be quite an exciting event and every ticket purchase goes towards the magazine's donations to charitable causes. Tickets at Eventbrite.
Held twice a year during Mercedes Benz Fashion Week, Small Boutique Fashion Week is an extremely professional production open to the public that features designs from smaller, less well known desginers that are trying to establish their reptuation. Ever a pleasant surprise, this year's Small Boutique Fashion Week will also be held on Valentine's Day.
Couture Fashion Week
Couture Fashion Week has been a staple on the fashion scene for quite some time as Founder Andreas Aquino has featured designers from every continent on the globe and continues to bring big names from Europe and increasingly Latin America to present to an always packed house. Unlike most shows, Couture Fashion Week always features great entertainment from talented musicians, singers, dancers and other creative artists to compliment the creativity on the runway. Tickets can be bought on their website.
Countless other shows and fashion events dot the landscape of NYFW that are accessible to the public, some ticketed and some for free. Let us know what events you will be attending in the comments below.
---
Follow:
AMCONYC Fashion Show
,
Couture Fashion Week
,
fashion shows
,
fashion week
,
Houston Fashion Week
,
Mercedes Benz Fashion Week
,
Milk Fashion Week
,
new york fashion week
,
nolcha fashion week
,
NYFW
,
Small Business Fashion Week
Marcus Campbell
Content Editor / Engagement Marketer at Ideal Media. Making Olanola a better place to do the things you always wanted to do.
Понравился наш сайт? Присоединяйтесь или подпишитесь (на почту будут приходить уведомления о новых темах) на наш канал в МирТесен!
1
Показы:

1
Охват:

0
Прочтений:

0
---